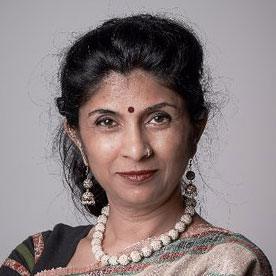 VANI KOLA VENLY & PEAKE FELLOWSHIP DEVELOPMENT TEAM FOUNDING PARTNER
Vani Kola began her career training as an engineer then as the founder of Silicon Valley eProcurement software vendor, RightWorks. She went on to sell RightWorks for $700 million dollars before going back to India and pioneering the venture capital industry there. Her connection to Venly goes back to her time as a RightWorks client for go-to-market services offered by Benchmarking Partners, the company that formed Venly.

In addition to Vani's prominence as a global business leader, she has been a champion of local businesses in the U.S., India, and worldwide. In that spirit, she helps guide Venly's strategy of helping small & local businesses be global successes at home and abroad.

Vani holds a BS in Electrical Engineering from Osmania University and a MS in Electrical Engineering from Arizona State University.