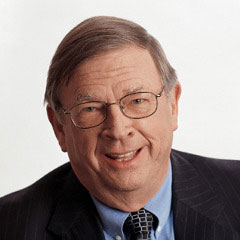 Harvard Business School
Dean Emeritus John McArthur Venly Institute Co-Chair
Helped launch Venly. In addition to his decades of service to the Harvard Business School, Dean McArthur also served as Senior Adviser to the President of The World Bank and Chair of the Asia Pacific Foundation of Canada. Known for his quiet but effective leadership style, Dean McArthur served as founding Co-Chair of Partners HealthCare System which brought together two leading Harvard Medical School teaching hospitals, Massachusetts General Hospital and Brigham and Women's Hospital. His other director and senior advisory roles include Benchmarking Partners, Chase Manhattan Corporation, Duke University Health System, e-Rewards, GlaxoSmithKline, Junior Achievement, Partners In Health, the Social Enterprise Initiative Advisory Board at Harvard University, and Thomson Reuters Founders Share. In his recognition of his service, Brigham and Women's Hospital announced the John H. McArthur Fellowships in Medicine and Management while Harvard University established the John and Natty McArthur University Professorship and dedicated McArthur Hall at the Harvard Business School. For all his global experience, Dean McArthur often cites a job in his hometown paper mill as the pivotal opportunity in his career. A native of Western Canada, Dean McArthur earned a Bachelor of Commerce in Forestry from the University of British Columbia, his Doctorate from the Harvard Business School, as well as a number of honorary doctorates.