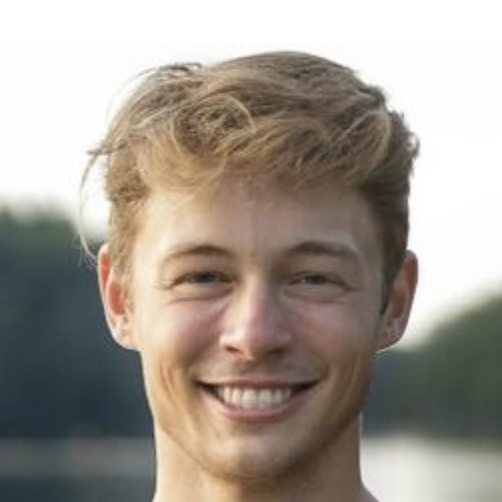 EVAN ALBERS '24 PEAKE OPERATIONS FELLOW
A native of Columbus, Ohio, Evan graduated in 2023 with a BA in Computer Science and Philosophy, and a minor in Economics and Finance from Bowdoin College in Brunswick, Maine. He completed Honors Projects in both Computer Science and Philosophy and also worked on an agent-based model of asset markets for his computer science professor, Dr. Mohammad Irfan. Evan developed a passion for innovative market exchanges of products and services that could be used by small businesses across industries starting with the U.S. Defense Industrial Base (DIB).

Evan's personal interest in Community Commerce Hubs for Innovation grew as he watched his grandfather, a retired precision machinist, and a team of volunteer experts rebuild a World War II-era Boeing B-17 based on salvaged parts. As Evan supports small businesses to benefit from AI and big data-based tools, he will rely on skills he honed in his campus job as a Learning Assistant helping fellow students grasp new concepts and overcome coding challenges. Evan also draws on teamwork and mutual mentoring skills developed in two non-academic focuses: first as a Heavyweight Rower with Bowdoin Rowing where he helped the team achieve its first national championship; and second as founder of the Bowdoin Polar Investment Club which taught the basics of personal finance and became one of the College's most active organizations.


Excerpt from Evan's nomination to the Mary S. Peake Fellowship Selection Committee:

"It is with great enthusiasm and excitement that I nominate Evan Albers '23 for the Peake Fellowship on behalf of Bowdoin College and President Safa Zaki. Evan is a gifted individual with a unique set of skills and interests. He was one of my most outstanding students at Bowdoin College…I have also done research with him for a year and a half and advised his computer science Honors Project…Evan is not only a standout student and researcher but also a natural leader and entrepreneur who has a great understanding of the social and cultural issues in community building. "




Dr. Mohammad T. Irfan
John F. and Dorothy H. Magee Associate Professor of Digital and Computational Studies
Director of Digital and Computational Studies Program Bowdoin College